USA Rental Cars at Top Airports
USA Rental Cars is proud to offer the lowest rates on rental cars at every major airport across the country. We've been building relationships with the most reliable car rental suppliers who do business in the United States. Our partnership with these suppliers give our customers exclusive deals on specific car makes and models. We guarantee the best rates from our suppliers at popular US Airports like Atlanta's Hartsfield-Jackson Airport in Atlanta or LAX in Los Angeles; no matter what city you are headed to, we've got a car for you.
USA Rental Cars works with suppliers to find rentals for travelers as young as 18 years old. Many suppliers will tack-on a young driver charge for anyone under the age of 25 but not all. If you are under 25 and looking to rent a car, contact us to find the best rate for your rental..
Book a Rental Car in the Most Popular States in the US
Find the Right Size Rental at the Top Airports in the USA
Determining the right sized vehicle for you and your travel party is a tough decision to make months before your trip. Limiting yourself to two medium sized suit cases or less can create un-needed stress the night before your flight when you realize you need to bring your rain boots. Learn more about rental car sizes below - at USA Rental Cars we recommend you reserve a little space for added luggage or souvenirs.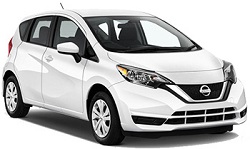 Economy Sized Rental Cars - Small, agile and fuel efficient, economy rental cars are an excellent choice for short term travel and for travelers on a budget. You can expect to enjoy 30-35 miles per gallon and an economy car rental can typically accommodate 4 adults, two medium-sized suitcases and a small carry on bag.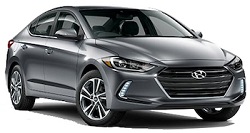 Mid-Sized Rental Cars - Travelers who value comfort without busting their budget will appreciate a mid-size car rental while traveling in Europe or elsewhere. Offering 15-17 cubic feet of storage space for luggage, you can expect to comfortably fit 3-4 medium-sized bags or suitcases in a mid-size rental car.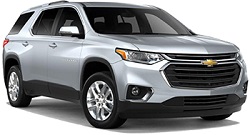 Family-Sized Rental Cars - Rent a full size car and you'll enjoy a full 18 cubic feet of storage (in most models) along with decent fuel economy at 15-25 miles per gallon. Comfortably stow 4 medium-sized bags during your driving tour of Europe. Remember, car rental companies cannot guarantee the exact make and model so be sure you plan for any similar sized vehicle.
Book with the Most Trusted Suppliers in the United States
USA Rental Cars has been building relationships with our car rental suppliers for decades. Through our relationships, we are able to pass on savings to our customers that customers won't find anywhere else on the web. We guarantee our rates are the best and guarantee our rates are the best available from our suppliers. Take the next step in planning your trip in the US and book a rental car today.