New York Rental Cars
Start comparing rates in New York to get a great deal for your car rental with us. We work with the most trusted auto rental companies in New York, and now you can check prices side by side on our site. Travelers will find airport and rail station pick-up selections in addition to a wide range of additional office locations in popular cities like NYC, Manhattan, and Rochester. Interested in a one-way rental car? You can pick up in Manhattan and drop off in Rochester or even go to other states like New Jersey.
By having a rental car in New York, nothing is off-limits. With so much to explore and do, you'll be happy you're in control of your schedule and allow for some improvisation. From economy to full-size SUVs and vans, we've got the optimal vehicle for all your necessities. Book and save on your vehicle with USA Rental Cars today.
Rental Car Suppliers we Work with in New York
We partner with auto rental providers in every state in the USA. Regardless of whether you're preparing for a flight, arriving by train, or just looking for a rental for a road trip, we have got a hassle-free pick-up place for you. Use the search form near the top of the page to locate low rates on rentals in New York from these providers and more.
| | | |
| --- | --- | --- |
| Avis Car Rentals | Budget Rent a Car | Sixt Rent a Car |
See More of New York with a Rental Car
Two-thirds of the state's population lives in the New York metropolitan area. With an estimated population of 8.36 million in 2019, New York City is the most populous city in the United States and the main gateway for immigration to the United States. The New York City metropolitan area is one of the most populated in the world. A global city, New York City, is home to the United Nations Headquarters and has been described as the cultural, financial, and media capital of the world and the most economically powerful city in the world. The next four most populous cities in the state are Buffalo, Rochester, Yonkers, and Syracuse, while the state capital is Albany.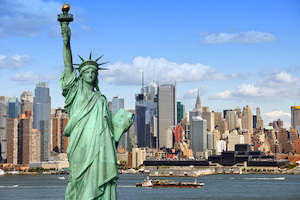 Visit New York City
- Situated in one of the largest natural harbors globally, New York City is made up of five boroughs, each of which is a county in New York State. The five boroughs — Brooklyn, Queens, Manhattan, Bronx, and Staten Island — were created when local governments were consolidated into a single city in 1898. The city and its metropolitan area constitute the main gateway for legal immigration to the United States. . Up to 800 languages are spoken in New York, making it the most linguistically diverse city globally. New York is home to more than 3.2 million residents born outside the United States, the largest foreign-born population of any city in the world in 2016.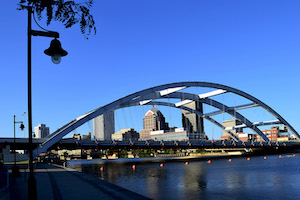 Visit Rochester
- Rochester was one of the first booming cities in the United States, initially due to the fertile Genesee River Valley, which gave rise to numerous flour mills, and later as a manufacturing center, spurring rapid population growth. The city rose to fame as the birthplace and home of some of America's most iconic companies, notably Eastman Kodak, Xerox, and Bausch & Lomb (along with Wegmans, Gannett, Paychex, Western Union, French's, Constellation Brands, Ragú, and others), making the region a world center for science, technology, and research and development.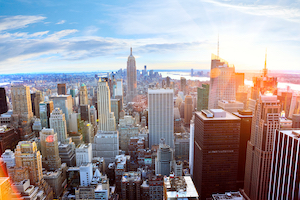 Visit Manhattan
- Manhattan has been described as the world capital of culture, finance, media, and entertainment, and the district is home to the headquarters of the United Nations. Anchored by Wall Street in the Lower Manhattan financial district, New York City has long been considered the most economically powerful city and the world's leading financial center. Manhattan is home to the two largest stock exchanges in the world by total market capitalization. : the New York Stock Exchange and NASDAQ.