Rental Cars at the Airport in Portland, OR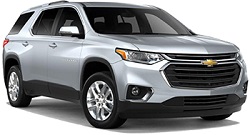 The Portland International Airport is the primary airport operating in close proximity to Portland, OR and is the busiest transportation center in all of Oregon, accounting for nearly 90% of all passenger traffic in the state. In addition to being an important hub in the Pacific northwest, passengers will find that the airport offers convenient access to the popular city of Portland and many rental car companies can be found within the airport, presenting an ideal opportunity for exploring the city. In a rental car booked with USA Rental Cars, you can truly maximize your time in the region and experience the open road with unmatched freedom. Compare our fantastic rates on traditional rental cars from the industry's top suppliers and consider one of our specialty rentals. Whether you are traveling with a large party or require a premium rental car, we offer a selection of passenger vans and luxury cars to accommodate all of your rental needs. Save on your next rental car in Oregon when you book with USA Rental Cars at Portland International Airport.
Continue reading to find out about locating the rental car desks and more need-to-know info for tourists planning to rent an automobile at the Portland International Airport. Review rental vehicle quotes all in one place, choose your date ranges and start your search. Place on hold beforehand to lock in the lowest price. If the rate drops ahead of pick-up, we'll respect the cheaper quote.
Where to Find the Car Rental Desks at Portland International Airport
The rental car desks at Portland International Airport can be found on Level 1 of the Short-Term Garage. To reach the Short-Term Garage on the airport, after you pick-up your luggage from the baggage claim area, make your way to the main exit of the arrivals area. Across from the main exit/entrance of the airport, you will find the Short-Term Garage. Be sure to follow the rental supplier signs posted throughout the airport and for additional directions, feel welcome to refer to airport staff members for assistance.
Featured Rental Car Providers at Portland International Airport
USA Rental Cars has long been developing relationships with the best auto rental providers in Portland for years. As a result of our relationship with these companies, we'll feature a number of bargains and savings unavailable directly with the provider. Avis, Dollar, Enterprise, Hertz, Thrifty are just a couple of the trusted providers we deal with in the United States. Regardless of the US airport you will be flying into, we have got bargains from one or more of the vendors earlier mentioned. Come across exclusive rates from a couple of the preferred companies at the airport terminal in Portland.
Featured Suppliers
Location Information
7102 Northeast Airport Way,
Portland, OR 97220
Telephone: (1) 503-249-4950 Hours: Open 24 Hours
7000 Northeast Airport Way,
Portland, OR 97220
Telephone: (503) 528-7900 Hours: Sun-Sat 5:30 AM - 2:00 AM
More Suppliers at Portland International Airport
---
Valuable Information for Travelers Renting a Car in Portland
Age Restrictions for Vehicle Rentals
USA Rental Cars can find excellent rates on vehicle rentals for everyone older than 18 with a legitimate drivers license. Having said that, some providers may charge an additional charge for renters younger than twenty five. Take a look at your auto rental quote to acquire more information on young driver fees or give us a call to learn your choices.
Car Rental Payment Options
USA Rental Cars allows many major charge cards including AMEX, MasterCard, and Visa. If you do not possess a charge card and seeking to pay for your rental call us and we'll explore what you can do as some companies provide additional alternatives. If you have questions about paying for your rental car don't be afraid to contact us.
Gas Stations near Portland International Airport
7-Eleven: 11549 NE Glenn Widing Dr - Open 24 Hours
76: 8210 NE Fremont St - Open 24 Hours
Shell: 9920 NE Sandy Blvd - Open 24 Hours
---
More Locations to Rent a Car in Portland
USA Rental Cars works with additional car rental suppliers outside the Portland International Airport in Portland. With taxi's and on-demand services like Uber/Lyft, it has never been easier to locate transportation from the airport terminal. Browse additional offices and downtown locations in Portland where you can pick-up your rental vehicle. Compare to find the best deal today!