Oregon Rental Cars
Start reviewing quotes in Oregon to find a fantastic deal for your next car rental with us. We partner with the most trusted auto rental companies in Oregon, and now you can review quotes next to each other on our site. Travelers will find airport and train station pick-up selections in addition to several other office locations in popular cities like Portland, Bend, and Eugene. Considering a one-way auto rental? You can easily pick up in Eugene and drop off at the Portland Airport or drive to Washington State.
With a car rental in Oregon, little is off-limits. With so much to explore and do, you'll be happy you are in charge of your schedule and allow for some spontaneity. From economy to full-size SUVs and vans, we've got the perfect automobile for all of your needs. Reserve and save on your car with USA Rental Cars today.
Rental Car Suppliers we Work with in Oregon
We work together with auto rental companies in all 50 states in the USA. Regardless if you are getting ready for a flight, arriving by train, or just searching for a rental for a road trip, we have a hassle-free pick-up location for you. Find greatly reduced rates in Oregon from all of these companies plus more; get started comparing today.
| | | |
| --- | --- | --- |
| Avis Car Rentals | Budget Rent a Car | Sixt Rent a Car |
See More of Oregon with a Rental Car
Oregon is one of the most geographically diverse states in the US, marked by volcanoes, abundant bodies of water, dense evergreen and mixed forests, as well as high deserts and semi-arid scrub. At 11,249 feet (3,429 m), Mount Hood, a stratovolcano, is the highest point in the state. Oregon's only national park, Crater Lake National Park, comprises the caldera surrounding Crater Lake, the deepest lake in the United States. The state is also home to the world's largest organism, Armillaria ostoyae, a fungus that extends below 2,200 acres (8.9 km 2) of the Malheur National Forest.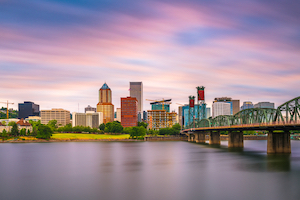 Visit Portland
- Named after Portland, Maine; the Oregon settlement began to be populated in the 1830s near the end of the Oregon Trail. Its access to water provided convenient transportation of goods, and the logging industry was a major force in the city's early economy. At the beginning of the 20th century, the city had a reputation as one of the most dangerous port cities globally, a center for organized crime and organized crime. After the city's economy experienced an industrial boom during World War II, its reputation for a tough edge began to dissipate. In the 1960s, Portland became known for its growing progressive political values, earning it a reputation as a bastion of the counterculture.
Visit Bend - Bend is on the eastern edge of the Cascade Range along the Deschutes River. The Ponderosa pine forest becomes the high desert, characterized by arid lands, junipers, sagebrush, and bitter shrubs. Originally a crossing point on the river, the settlement began in the early 20th century. Bend was incorporated as a city in 1905. Economically, it started as a lumber town but is now identified as a gateway to many outdoor sports such as mountain biking, fishing, hiking, camping, rock climbing, rafting, skiing. , paragliding. And golf. In 2015, Men's Journal ranked Bend as one of the "10 Best Places to Live Now."

Book a Rental Car at RDM Airport

Visit Eugene
- Eugene is home to the University of Oregon, Bushnell University, and Lane Community College. Various locations within Eugene are believed to be an inspiration for locations on The Simpsons. This includes Max's Tavern and the Oregon Pioneer statue on campus. The city is noted for its natural environment, recreational opportunities (especially biking, running / jogging, rafting, and kayaking), and its focus on the arts, along with its history of civil unrest, protests, and environmental activism. Eugene's official motto is "A great city for the arts and the great outdoors." It is also known as the "Emerald City" and as "Track Town, USA." The Nike Corporation had its beginnings in Eugene. In 2022, the city will host the 18th World Championships in Athletics.

Book a Rental Car at EUG Airport