Connecticut Rental Cars
Start reviewing quotes in Connecticut to get a good deal for your upcoming rental with us. We work with the most trusted rental car companies in Connecticut, and now you can review prices next to each other on our site. Renters can get airport and rail station pick-up options in addition to a wide range of additional office locations in popular cities like Hartford, New Haven, and Stamford. Interested in a one-way rental car? You can pick it up in Hartford and drop it off in New York.
With a car rental in Connecticut, little is off-limits. With so much to explore and do, you'll be happy you are in charge of your schedule and allow for some spontaneity. From economy to full-size SUVs and vans, we've got the perfect automobile for all of your needs. Reserve and save on your car with USA Rental Cars today.
Rental Car Suppliers we Work with in Connecticut
We partner with rental car suppliers in just about every state in the United States. You will get rental rates at each major airport terminal providing the most convenient pick-up and return options no matter what your vacation destination is. Utilize the rate form at the top of the page to discover significantly lower rates on rentals in Connecticut from all of these providers and more.
| | | |
| --- | --- | --- |
| Avis Car Rentals | Budget Rent a Car | Sixt Rent a Car |
See More of Connecticut with a Rental Car
Connecticut is one of the fifty states that, along with Washington D.C., make up the United States of America. Its capital is Hartford, and its most populous city, Bridgeport. It is located in the Northeast region of the country, New England division, bordering Massachusetts to the north, Rhode Island to the east, the Atlantic Ocean to the south, and New York state to the west. With 14 357 km², it is the third least extensive state - ahead of Delaware and Rhode Island, the least extensive - and with 249 inhabitants / km², the third most densely populated, behind New Jersey and Rhode Island. It was admitted to the Union on January 9, 1788, as state number 5.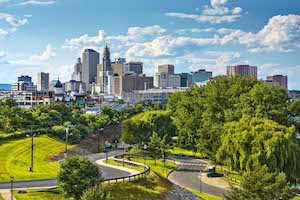 Visit Hartford
- It is known as the "insurance capital of the world": Hartford is home to most of the largest insurance companies' headquarters and has made this business its economic engine.4 (The state of Connecticut is known as "the land of traditions.") The region has a relatively low population of adults between 18 and 25, yet Hartford has a relatively young population.
Visit New Haven
- New Haven is the third-largest city in the US state of Connecticut, after Bridgeport and Hartford, and is located in New Haven County, on the shore of the Long Island Sound or Long Island Strait. It has an area of 52.4 km². According to estimates by the Census Bureau in 2009, the city had 123,330 inhabitants and a density of 2,549 inhabitants / km². Yale University is located in the city.

Book a Rental Car at HVN Airport

Visit Groton
- Groton is a town next to the Thames River in New London County, Connecticut. At the 2010 census, the town had a population of 10 389. There is the General Dynamics Electric Boat headquarters, the largest submarine contractor for the US Navy. The pharmaceutical company Pfizer is the company that generates more jobs in the municipality.

Book a Rental Car at GON Airport