Illinois Rental Cars
Start comparing quotes in Illinois to get a great deal for your rental with USA Rental Cars. We work with the most trusted auto rental suppliers in Illinois, and now you can review rates side by side, all in one place. Renters will find airport and train station pick-up selections and several other office locations in top cities like Chicago, Springfield, and Naperville. Interested in a one-way rental car? You can easily pick up in Chicago and drop off in Springfield, or even go to Indiana.
With a car rental in Illinois, little is off-limits. With so much to explore and do, you'll be happy you are in charge of your schedule and allow for some spontaneity. From economy to full-size SUVs and vans, we've got the perfect automobile for all of your needs. Reserve and save on your car with USA Rental Cars today.
Rental Car Suppliers we Work with in Illinois
We work together with auto rental companies in all 50 states in the USA. Regardless if you are getting ready for a flight, arriving by train, or just searching for a rental for a road trip, we have a hassle-free pick-up location for you. Find greatly reduced rates in Illinois from all of these companies plus more; get started comparing today.
| | | |
| --- | --- | --- |
| Avis Car Rentals | Budget Rent a Car | Sixt Rent a Car |
See More of Illinois with a Rental Car
Geographically, Illinois is characterized by its generally uneven terrain and unstable climate. Agriculture is an important source of income for Illinois. Tourism and the provision of transport and telecommunications services are other important sources of income in the state. Chicago is the largest city in the state and one of the most dynamic airports and rail hubs in the United States. Illinois is known for its large and diverse population and its balance between rural areas, small industrial cities, sprawling suburbs, and a large metropolitan area, Chicago. Its diverse economy and central location have made it a major transportation hub for 150 years. This mix of factories and farms, urban and rural, makes Illinois a microcosm within the nation.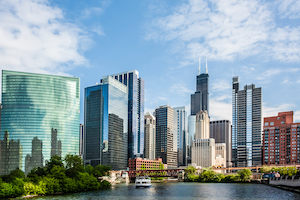 Visit Chicago
- Chicago, known colloquially as "the Second City" or "the Windy City," is the most populous in the state of Illinois, United States. It is the third most populous city in the country, after New York and Los Angeles. Located along the southwestern shore of Lake Michigan, it is the county seat of Cook County and is part of the Chicago metropolitan area; a conurbation also made up of outlying counties.
Visit Peoria
- Peoria is a city located in the county of Peoria in the American state of Illinois. The 2010 Census had a population of 115,007 inhabitants and a population density of 884.08 people per km².2 It is located on the right bank of the Illinois River. Peoria is one of the oldest settlements in Illinois, originating from the explorers who first ventured up the Illinois River from the Mississippi.

Book a Rental Car at PIA Airport

Visit Naperville
- Naperville is a city located in DuPage County in the US state of Illinois. The 2010 Census had a population of 141,853 inhabitants and a population density of 1,392.85 people per km². According to the United States Census Bureau, Naperville has a total area of 101.84 km², of which 100.41 km² corresponds to land and (1.41%) 1.43 km² is water.

Book a Rental Car at AUZ Airport