Georgia Rental Cars
Start researching quotes in Georgia to get a fantastic deal for your upcoming rental with USA Rental Cars. We work with the highest-rated car rental providers in Georgia, and now you can check quotes side by side, all in one place. Travelers will see airport and rail station pick-up selections and a wide variety of other office locations in popular cities like Atlanta, Savannah, and Alpharetta. Considering a one-way auto rental? You can pick up in Atlanta and drop off in Savannah, or even go to South Carolina.
With a car rental in Georgia, little is off-limits. With so much to explore and do, you'll be happy you are in charge of your schedule and allow for some spontaneity. From economy to full-size SUVs and vans, we've got the perfect automobile for all of your needs. Reserve and save on your car with USA Rental Cars today.
Rental Car Suppliers we Work with in Georgia
We work together with auto rental companies in all 50 states in the USA. Regardless if you are getting ready for a flight, arriving by train, or just searching for a rental for a road trip, we have a hassle-free pick-up location for you. Find greatly reduced rates in Georgia from all of these companies plus more; get started comparing today.
| | | |
| --- | --- | --- |
| Avis Car Rentals | Budget Rent a Car | Sixt Rent a Car |
See More of Georgia with a Rental Car
America's four major professional sports leagues have had Georgia teams since the 1960s: Major League Baseball's Atlanta Braves, Major League Soccer's Atlanta Falcons, Major League Soccer's Atlanta United FC, and the Atlanta Hawks of the National Basketball Association. There were two Georgia teams in the National Hockey League: the Atlanta Flames and the Atlanta Thrashers. The Georgia Bulldogs and the Georgia Tech Yellow Jackets are outstanding college football teams that have earned multiple national titles and bowls. The Chick-fil-A Bowl for college football has been played in Georgia since 1968. Atlanta Motor Speedway is an oval where the NASCAR Cup has been raced since 1960. The Road Atlanta racetrack opened in 1970 has hosted IMSA Championship races.
Visit Atlanta
- Atlanta is the capital and largest and most populous city of Georgia and the thirty-third in the United States in the number of inhabitants in 2008. It has an estimated population of 537,958 inhabitants. Its metropolitan area, whose official name is Atlanta-Sandy Springs-Marietta, GA MSA (commonly known as Metropolitan Atlanta), is the ninth-largest metropolitan area in the country, with approximately 5.5 million inhabitants. Like most of the Sun Belt, the Atlanta region experienced significant growth in the 2000s, adding more than one million people between 2000 and 2008. This was the largest growth of any American area behind Dallas. -Fort Worth metroplex. With a gross income of $ 270 billion, Atlanta's economy is ranked 15th among cities globally and 6th in the United States.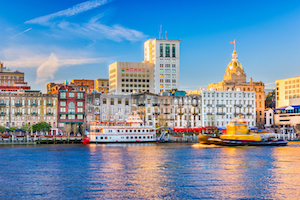 Visit Savannah
- Savannah is frequently cited in the European press as one of the most beautiful cities in the United States. Its 24 squares decorated with statues and fountains, with tall trees planted in them, give a special aspect to the city, complemented by the survival of numerous dwellings before the Civil War. It is, therefore, one of the most typical cities of the Old South (Deep South) of the United States. In the center of the city, heavily focused on tourism, a colonial cemetery is preserved. The Savannah Cathedral was consecrated to Saint John the Baptist, founded in 1802 by French who escaped from Haiti.

Book a Rental Car at SAV Airport

Visit Columbus
- Columbus is a city of Georgia, United States, with 189 885 inhabitants (2010). It is located on the left bank of the Chattahoochee River - which separates it from Alabama - on which it is the head of navigation and whose energy feeds an important industry: cotton, bricks, fertilizers, agricultural implements, glass, and electrical material. Founded as a factory in 1826 and a cotton textile center since 1838, Columbus was a Confederate warehouse. Nearby is Lawson Air Force Base and Fort Benning, Army Infantry School.

Book a Rental Car at CSG Airport