New Mexico Rental Cars
Start comparing rates in New Mexico to get a fantastic deal for your car rental with us. We work together with the most trusted car rental providers in New Mexico and now you can check rates side-by-side, all in one place. Travelers will see airport and train station pick-up options and a wide variety of additional office locations in top cities like Santa Fe, Albuquerque, and Las Cruces. Interested in a one-way rental car? You could pick it up in Albuquerque and drop it off in Las Vegas - Nevada.
By having a car rental in New Mexico, there is nothing out of range. With so much to see and do, you'll be glad you are in control of your agenda and allow for some improvisation. From economy to full-size SUVs and vans, we've got the perfect motor vehicle for all of your necessities. Reserve and save on your vehicle with USA Rental Cars today.
Rental Car Suppliers we Work with in New Mexico
We work together with car rental companies in all of the fifty states in the USA. Whether you are preparing for a flight, arriving by train, or simply just trying to find a rental car for a road trip, we have a practical pick-up location for you. Use the search form near the top of the page to discover significantly lower rates on rentals in New Mexico from all of these providers and more.
| | | |
| --- | --- | --- |
| Avis Car Rentals | Budget Rent a Car | Sixt Rent a Car |
See More of New Mexico with a Rental Car
A large arts community thrives in Santa Fe, and has included the likes of Bruce Nauman, Richard Tuttle, John Connell, and Steina Vasulka. The capital city has several art museums, including the New Mexico Museum of Art, the Museum of Spanish Colonial Art, the Museum of International Popular Art, the Museum of Indigenous Art and Culture, the Museum of Contemporary Native Art, SITE Santa Fe and others. Artist and writer colonies thrive, and the small town is packed with art galleries. In August, the city hosts the annual Santa Fe Indian Market, which is the oldest and largest juried Native American art showcase in the world. Performing arts include the famous Santa Fe Opera, which features five operas in repertoire from July to August, the Santa Fe Chamber Music Festival held each summer, and the restored Lensic Theater, a premier venue for many types of performances. Santa Fe is also home to Frogville Records, an independent record label. The weekend after Labor Day boasts the burning of Zozobra, a fifty foot (15 m) puppet, during the Santa Fe Fiestas.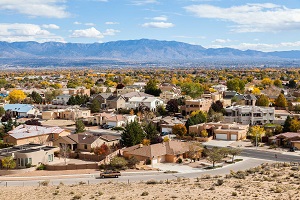 Visit Albuquerque
- Albuquerque is the county seat of Bernalillo County and is located in north-central New Mexico. The Sandia-Manzano Mountains run along Albuquerque's east side, and the Rio Grande flows north-south through its center, while West Mesa and Petroglyph National Monument make up the western part of the city. Albuquerque has one of the highest elevations of any major city in the US, ranging from 4,900 feet (1,500 m) above sea level near the Rio Grande to over 6,700 feet (2,000 m) in the areas of the hills of Sandia Heights and Glenwood Hills. The civic apex is in an undeveloped area within the Albuquerque Open Space; There, the terrain rises to an elevation of approximately 6,880 feet (2,100 m), and the highest point in the metropolitan area is the crest of the Sandia Mountains at an altitude of 10,678 feet (3,255 m).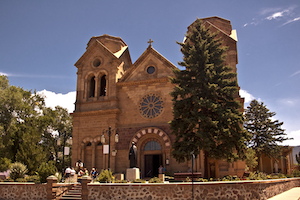 Visit Santa Fe
- It is considered one of the world's great cities of art, due to its many art galleries and facilities, and is recognized by UNESCO's network of creative cities. Cultural highlights include Santa Fe Plaza and the Governors Palace, and the Santa Fe Fiesta, as well as various New Mexico cuisine restaurants and New Mexico musical performances. Among the many art galleries and installations are, for example, the Georgia O'Keeffe Museum, as well as a gallery by cartoonist Chuck Jones, along with more recent art collectives like Meow Wolf.

Book a Rental Car at SAF Airport

Visit Las Cruces
- Las Cruces is the economic and geographic center of the Mesilla Valley, the agricultural region in the Rio Grande floodplain that stretches from Hatch to the west side of El Paso, Texas. Las Cruces is home to New Mexico State University (NMSU), New Mexico's only land-grant university. The city's main employer is the federal government at the nearby White Sands and White Sands Missile Range test facilities. The Órgano Mountains, 10 miles (16 km) to the east, dominate the city's landscape, along with the Doña Ana Mountains, the Robledo Mountains, and Picacho Peak. Las Cruces is located 225 miles (362 km) south of Albuquerque, 42 miles (68 km) northwest of El Paso, Texas, and 41 miles (66 km) north of the Mexican border at Sunland Park.