Rhode Island Rental Cars
Start researching quotes in Rhode Island to find a great deal for your car rental with USA Rental Cars. We work together with the best car rental providers in Rhode Island, and now you can look at quotes next to each other, all in one place. Travelers will see airport and rail station pick-up options in addition to several additional office locations in top cities like Providence, Newport, and Warwick. Interested in a one-way rental car? You can pick up in Newport and drop off in Boston - Massachusetts.
With a car rental in Rhode Island, little is off-limits. With so much to explore and do, you'll be glad you are in control of your agenda and allow for some spontaneity. From compact to full-size sport-utility vehicles and passenger vans, we've got the perfect automobile for all of your desires. Book and save on your vehicle with USA Rental Cars today.
Rental Car Suppliers we Work with in Rhode Island
USA Rental Cars partners with rental car providers in every single state in the US. Regardless if you are getting ready for a flight, arriving by train, or simply searching for a rental car for a road trip, we have a convenient pick-up place for you. Discover excellent low rates in Rhode Island from these companies, plus more; start researching today.
| | | |
| --- | --- | --- |
| Avis Car Rentals | Budget Rent a Car | Sixt Rent a Car |
See More of Rhode Island with a Rental Car
Formerly called the State of Rhode Island and Providence Plantations, since joining the Union in 1790, voters in the state approved a November 2020 amendment to the state constitution, renaming itself the State of Rhode Island. This change took effect when the results were certified on November 30, 2020. Rhode Island's official nickname is "Ocean State," a reference to the large bays and inlets that make up approximately 14% of its total area.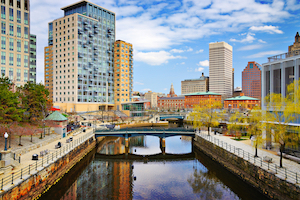 Visit Providence
- Providence is the capital and most populous city in Rhode Island and is one of the oldest cities in the United States. It was founded in 1636 by Roger Williams, a Reformed Baptist theologian and religious exile from the Massachusetts Bay Colony. He named the area in honor of the "merciful providence of God," which he believed was responsible for revealing that refuge to himself and his followers. The city is located at the mouth of the Providence River at the head of Narragansett Bay.

Book a Rental Car at PVD Airport

Visit Newport - Newport is a coastal city on Aquidneck Island in Newport County, Rhode Island. It is located in Narragansett Bay, approximately 33 miles (53 km) southeast of Providence, 20 miles (32 km) south of Fall River, Massachusetts, 74 miles (119 km) south of Boston, and 180 miles (290 km) miles) northeast of New York City. It is a New England summer resort and is famous for its historic mansions and rich sailing history. It was the first US Open tournament for tennis and golf and all challenges to America's Cup between 1930 and 1983. It is also home to Salve Regina University and Naval Station Newport, which houses the United States Navy.

Visit Warwick - Warwick was founded by Samuel Gorton in 1642 and has witnessed major events in American history. It was decimated during King Philip's War (1675-1676). It was the scene of the Gaspee Affair, the first act of armed resistance against the British, which even preceded the Boston Tea Party, and a significant prelude to the American Revolution. Warwick was also the home of Revolutionary War General Nathanael Greene, George Washington's second in command, and Civil War General George S. Greene, a hero of the Battle of Gettysburg. Today, it is home to Rhode Island's main airport, TF Green Airport, which serves the Providence area and serves as a relay for Logan International Airport in Boston, Massachusetts.