US Virgin Island Rental Cars
USA Rental Cars is proud to offer some of the lowest rates on rental cars available to rent among the US Virgin Islands. Working with a number of suppliers on the main islands of the USVI, travelers can find low rates on rental cars on the islands of Saint Croix and Saint Thomas. These Caribbean Islands are great vacation destinations and best explored with a rental car. Don't rely on public transportation to hop around the island, be in control of your itinerary with the convenience of a rental car in the US Virgin Islands.
The islands that make up to the US Virgin Islands are located roughly 40 miles east of Puerto Rico, another US territory. This island nation is home to a variety of beach and water attractions including national parks and reefs perfect for snorkeling adventures. Find a number of white sand beaches like Trunk Bay or Cinnamon Bay and enjoy one of the most tranquil environments found across the globe. Take advantage of our low car rental rates in the US Virgin Islands and take the next step in planning your island vacation.
Tour St. Thomas in your Rental Car
The US Virgin Islands provide all you need to enjoy your Caribbean vacation. Find high end restaurants, shopping and beach getaways all across the island. Seeking adventure? Enjoy sea kayaking, sailing, horseback riding, fishing, scuba diving and so much more! Learn about the most popular spots to visit below.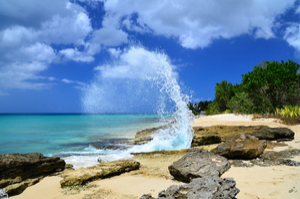 Visit Saint Croix - One of the US Virgin Islands, St. Croix is an ideal vacation spot for travelers looking for a Caribbean vacation. Water activities and sports can be found all over the island. Go snorkeling to explore the Buck Island Reef National Monument or visit the Sandy Point National Wildlife Refuge to see protected wildlife. Visit Point Udall, the easternmost point in the US marked with a sundial. Book a rental car in St. Croix to explore all this island has to offer.

Book a rental car at the St. Croix Airport.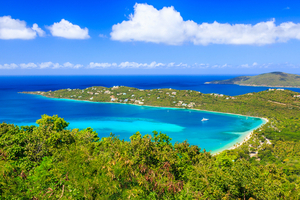 Visit Saint Thomas - Pick-up your rental car at the St. Thomas airport and begin your island adventure. Known as the "Gateway Isle" of the US Virgin Islands, St. Thomas is a historic island home to the popular Magens Bay (pictured left). Visit Blackbeard's Castle and take a tour to learn about the local history of pirates. Take the family to the Coral World Ocean Park or sail to Paradise Point. All these activities and more await you in St. Thomas.

Book a rental car at the St. Thomas Airport
Car Rental Suppliers We Work With in the US Virgin Islands
USA Rental Cars has been working with a trusted group of suppliers in the Virgin Islands for decades. We work with well-known and trusted suppliers to provide a smooth rental experience for our customers. Use the search field above to compare rates on a variety of cars and suppliers we work with in the US Virgin Islands.